Reiki
What is Reiki?
Reiki (pronounced Ray-key) is a Japanese word meaning
Universal Life Energy, an energy which is all around us.
Reiki is a form of natural, energy healing. You don't need any particular belief system: anyone can receive this lovely form of healing. You will receive the energy from me whilst laying down on a couch, I will have my hands on your body, or just above it, to allow the healing energy to flow. Healing at a distance is also possible.
Reiki was created in Japan by Dr Mikao Usui, through a mixture of ancient wisdom, research and meditation.
There is no need to remove clothing, Reiki energy passes through anything, even plaster casts! A full treatment (and case history, if appropriate) usually takes about an hour with each hand position held for several minutes. Treatment may also include other methods of reiki healing and rebalancing, such as chakra work using crystals.
Reiki may heal at all levels: physical, psychological, emotional , social or spiritual. It can be given alongside any other form of treatment, whether NHS-based or complementary in nature.
What about long-term illnesses and disabilities? The Reiki Association has an extremely useful and informative site, where it makes the following comment.
"Acute injuries can be helped to heal very quickly but more chronic illness takes longer. In some cases such as terminal illness, there is not enough time for the progress of the disease to be reversed. However, in such cases there is usually great benefit and enhancement of the quality of life giving a sense of peace and acceptance during the time remaining."
What is it like to recieve Reiki?
Most people find receiving reiki very relaxing indeed. People tell me there is one difficulty though.....getting up afterwards! They are so relaxed that moving is the last thing they want to do! Sometimes it's possible to remain lying there for 5 or even 10 minutes longer, we can do that if time permits.
How I offer Reiki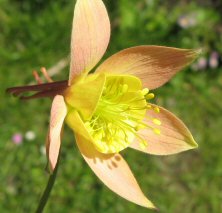 I offer sessions that usually last about an hour. I may also offer to bring reiki into other types of healing that you might be having from me. Likewise, if you come for reiki, I may offer other healing modes as part of the session should I feel it relevant. The choice will always be yours. Besides the standard hand-on treatment, the session may also comprise crystal and other reiki work, you will be kept informed, and in control, at all times.
I normally offer the peace and quiet of silence during a treatment. However, if you feel that you would relax more easily with gentle music in the background, please let me know beforehand. You may even have a favourite tape or DVD you'd like to bring along.
At Touchwood, the healing room is on the first floor. Can you manage to walk up...and down stairs okay? The stairs are rather steep! If not, house calls may be a possibility for you.
How long is a session and what does it cost?
A session usually lasts an hour. I may also use my flower essences if I am led to do so.
Beautiful Touchwood Garden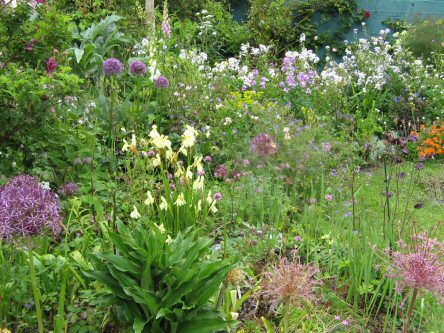 Sessions usually are at my home, in Gorseinon, Swansea. Touchwood Therapies' healing room is on the ground floor. Ring me on 01792-522443 or e-mail me for an appointment.
If you are unable to travel, I may be able to come to you, please ask for details.
My charge is between £20 and £30 per session. What you pay within this bracket is your own choice, depending on income, and time taken. Guidance: people on benefits would not be expected to pay over £20 for the full hour. If you're in a well paid job and had a full hour, you'd be expected to pay the whole £30.. You may pay by cash, or cheque, making the cheque payable to 'Touchwood'.
I trust you will find Touchwood complementary therapy sessions useful. Change needs your help too, and these sessions should support you through the processes. You are in control at all times, you will not be expected to do anything you don't want to. Data protection all information is treated in the strictest confidence. Complementary therapy does not replace medical attention, so see your doctor when needed. Although individual experiences vary, sometimes you may experience a strong emotional (or other) reaction. Afterwards, be gentle with yourself, and drink plenty of water. Please free to contact me if you need reassurance or support.